I must admit I am probably the wrong person to do a write up on this new game, not because of the casino game itself, but I often cringe when I see another release of a Batman movie.  I guess the same goes for any other super hero movie, they seem the rehash the same ol Sh"!"#t  over and over again with more special effects and what not.
Yesterday a brand new casino game was introduced with the new Batman theme, The Dark Night Rises. I must admit I am always a bit pessimistic about these new games, as well as the new movies that come out, but of course I always have to try things once, which is what my mother used to say used to get me in trouble.
I had never actually played Golden Riviera Casino, so I proceeded to download the software which is run on the classic Microgaming platform, which in all reality is one of my favourites.  I registered and installed the software and opted initially for the free play version. Now before I go any further I did have two minor issues,  one was with my antivirus software that I use which  is Avast, it flagged the software when I downloaded it but it was easy to continue on, the second issue was that upon registration I needed to install a security certificate which was also pretty straightforward.
Once the software download was complete I was presented with a crisp screen with nice graphics and towards the top on the left hand side was the Dark Night Rises casino game. Before I continue, there are some other cool games offered by Golden Riviera Casino, which include a Playboy Game, Jack & Jill, Piggy Fortunes, and Dr Whats up.

Click Here to Download Golden Riviera Casino
Once you click on the Dark Nigh Rises game it begins to download,  in my case it took a few minutes, I don't have the fastest internet connection, but once it loaded my first impression was WOW! You are greeted with some of the action clips from the movie and of course it then takes you to the game selection which my choice was five of a kind.
Once you log in the sound and graphics totally exceeded my expectations.  It is awesome, as you spin, images of Cat Woman, Batman and Bruce Wayne light up the screen as well as special clips from the movie.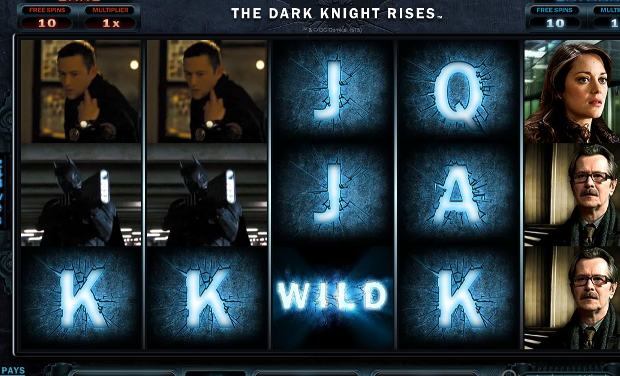 Click Here to Play The Dark Night Rises Casino Game
The Dark Knight Rises™ is a 5-Reel Video Slot game that gives you over 240 Ways to Win. New features of the game are the Symbol Scramble that scrambles all the symbols on screen to create a possible winning combination and Split Wilds.
The free play option gave me over 2500 complimentary credits to play with for the first 60 minutes on any game.  I must say that playing the Dark Night Rises made those 60 minute fly by in no time.
My honest opinion of the Dark Night Rises is that my pessimism and skepticism where totally unfounded, this game is truly worth every bit of time spent playing it, regardless if you are doing it for fun or wagering real money. I just do not see how anyone can walk away with a bad feeling from this  casino game, I know it will be one I will be playing for a long while.